Alex Tanzi
May 23, 2023
The pace of US money supply declined in April for a fifth month, an unprecedented stretch that offers hope that inflationary pressures will continue to cool.
The M2 measure, which includes cash in circulation as well as bank and money market accounts, dropped 4.6% to $20.7 trillion from the same month last year, seasonally adjusted data from the Federal Reserve showed Tuesday. A year ago, money supply was surging on the heels of Fed monetary policy and government stimulus tied to the pandemic.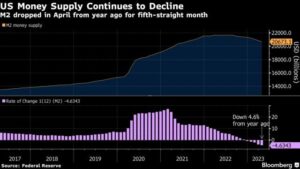 M2 fell 0.8% from a month earlier. Month-over-month declines in money supply are rare and have occurred in only a handful of instances in data back to 1959.
The recent downturn is a result of tighter Fed monetary policy, reduced demand for credit, tighter lending standards and a slide in bank deposits. Less money in the system suggests cooler economic activity and less inflation. At the same time, M2 is running well above pre-pandemic levels.
The Fed reports two measures of the money supply each week. M1 includes all currency held by consumers and companies for spending, money held in bank accounts, and travelers checks. M2, the more widely followed gauge, adds time-deposits and private holdings in money market funds and is the broadest measure of cash and cash-like liquid assets.
The Fed data showed that retail money market funds surged nearly 39% from a year ago to $1.37 trillion in April. Since the end of 2021, investors have moved $402 billion to these types of accounts in search of higher yields.