Augusta Saraiva
Bloomberg
September 15, 2023
US inflation expectations fell in early September to the lowest levels in more than two years as consumers grew more optimistic about the economic outlook.
Consumers expect prices will climb at an annual rate of 3.1% over the next year, down from the 3.5% expected in August, according to the preliminary reading from the University of Michigan. That marked the lowest reading since early 2021.
Respondents see costs rising 2.7% over the next five to 10 years, matching the lowest since the end of 2020, data Friday showed.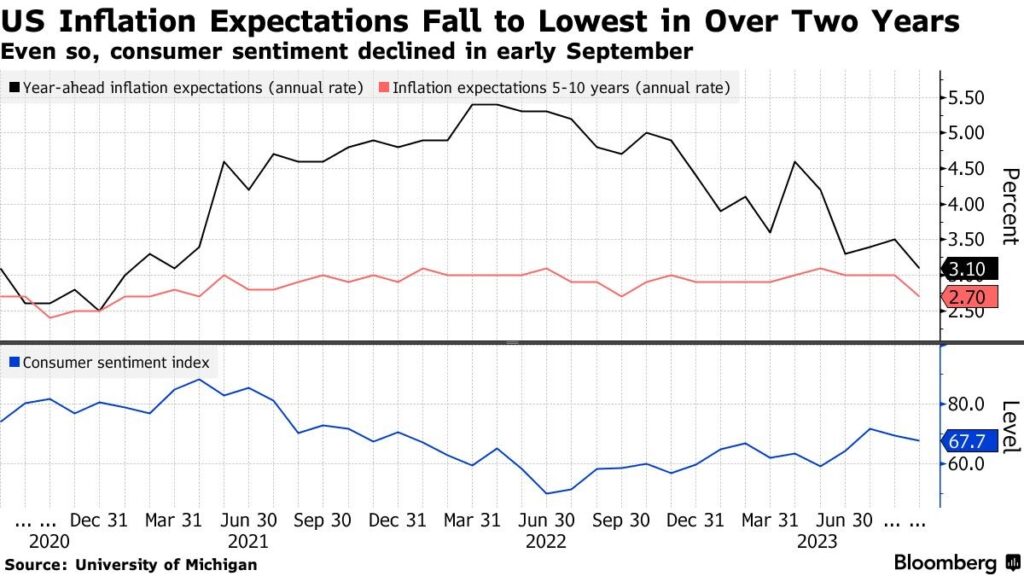 The drop is likely to encourage policymakers at the Federal Reserve and reinforce expectations that they'll hold interest rates steady at next week's meeting.
Even so, sentiment still fell to 67.7, below the median estimate in a Bloomberg survey of economists. Consumers increasingly mentioned food and gas prices as well as an erosion of their living standards.
While inflation expectations are ebbing, the road to ease price pressures has been bumpy, and many Americans are struggling to make ends meet. Though workers are finally starting to see their wage gains outpace inflation, the pace of earnings growth is decelerating, dampening purchasing power.
Moreover, consumers are particularly sensitive to gas prices, which started climbing in July and have stayed elevated ever since. A report earlier this week showed US consumer prices rose by the most on a monthly basis in over a year in August, with over half of the advance due to higher gasoline costs.
Sentiment was dragged down by consumers hearing more negative news about inflation and the economy in September compared to last month. But respondents are growing more confident that price growth is on a downward trend.
"Throughout the survey, consumers have taken note of the stalling slowdown in inflation," Joanne Hsu, director of the survey, said in a statement. However, "consumers expect the slowdown in overall inflation to resume."
The current conditions gauge fell to the lowest in three months, while a measure of expectations ticked up.
In addition to high prices, consumers are also grappling with elevated borrowing costs. Buying conditions for durable goods fell to a four-month low. Consumers' perceptions of the labor market and their financial situations also deteriorated.