The latest high-frequency data suggest America's economic recovery may finally be getting moving again after stalling for a month.
Bloomberg Economics created a weekly dashboard of high-frequency, alternative and market-based data to track the economy's plunge into recession and eventual recovery. New Covid-19 cases have decelerated by the most since the start of the pandemic and applications for unemployment benefits dropped to a pandemic low, though both measures remain extremely elevated. Other data points, such as consumer confidence and the number of airline passengers, incrementally improved.
The recent improvement in some of the dashboard's indicators is a welcome sign of positive momentum for the economy's fragile rebound, especially when paired with July's better-than-expected 1.76 million gain in payrolls.
Plenty of headwinds remain, though. New virus cases still number in the hundreds of thousands each week, with the disease killing hundreds of Americans daily. The unemployment rate remains almost triple the pre-pandemic level, while an uneven reopening of schools is making it difficult for many parents to work.

Notes: Weekly new Covid-19 cases based on data from Bloomberg News and Johns Hopkins. Lockdown index from Oxford COVID-19 Government Response Tracker from zero to 100. Jobless claims in millions. Public Transport Use from Moovit (average of New York area, Chicago and Los Angeles). Airline passengers are nationwide weekly average. Mortgage applications are percent changes from the average of the first two weeks in January. Bloomberg Consumer Comfort Index levels zero to 100. Store sales (month-to-date, %YoY) from Johnson Redbook Index. Restaurant bookings (%YoY) from OpenTable; Oil rigs, steel production and S&P 500 are percent changes from the average of the first two weeks in January. Electricity demand is the difference between actual daily load and business-as-usual expectation, weekly rolling average (%). Bloomberg Financial Conditions Index measured in Z-scores relative to pre-2008 crisis levels.
The extra $600 in weekly unemployment benefits provided by the Cares Act expired at the end of July, but President Donald Trump recently signed executive actions to provide $300 a week in federal funds to the unemployed, supplemented by $100 in state funds. While the stopgap measure may help support the millions of Americans that are relying on jobless benefits, economists estimate the funds could run out in a month or so, renewing pressure on Congress to pass a comprehensive stimulus bill.
"The White House has signed four executive orders to backstop unemployment benefits, defer payroll taxes, explore extending eviction moratoriums, and postpone student-loan payments," said Bloomberg economist Andrew Husby. "Still, an economy in deep crisis needs the assurance of durable stimulus, not short-term patches."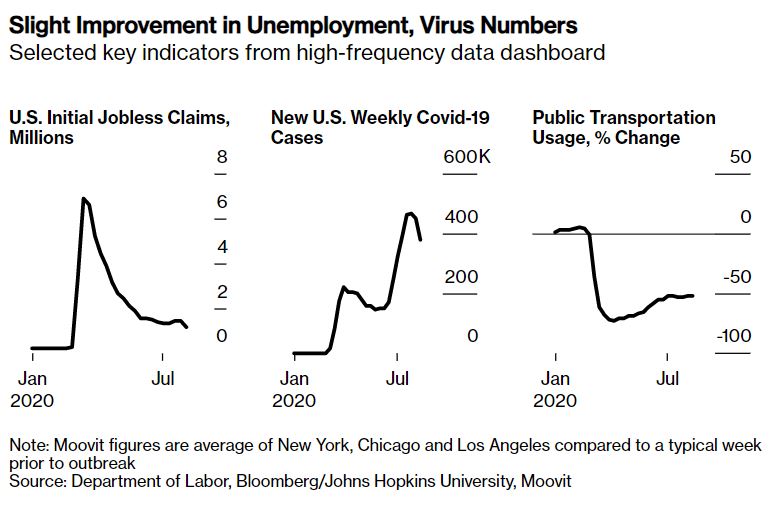 The latest figures showed applications for unemployment insurance in regular state programs fell to 1.2 million in the week ended Aug. 1, the lowest level since March. That's still nearly double the worst week in the 2007-2009 recession and also doesn't include more than 600,000 applications for Pandemic Unemployment Assistance, the federal program that expands benefits to those not previously eligible like self-employed workers.
Slightly more Americans appeared to be out and about last week. Data from OpenTable, a restaurant-booking platform, showed bookings were down 58% from a year ago — still extremely depressed but an improvement from minus 62% two weeks prior. Travel also remains subdued, though the number of airline passengers ticked higher.
Consumers still have a hard road to recovery ahead of them. A weekly confidence measure, the Bloomberg Consumer Comfort Index, edged higher, though remains well below its February level. Johnson Redbook same-store sales, a weekly indicator of retail sales, held steady from the prior week at a depressed level.