Anurag Rana and Andrew Girard
Bloomberg Intelligence
October 14, 2022
(Bloomberg Intelligence) — Microsoft could surpass fiscal 2024 consensus sales growth in constant currency by 300-500 bps on the back of a rebound in cloud spending after a year of slowdown. Though weak economic conditions will likely hurt the company's 2023 sales growth from a three-year average of 13-16% (current consensus), we think 2024 numbers are too conservative given the critical nature of Microsoft products.
1. Better Constant-Currency Sales Gains in Fiscal 2024
Microsoft products are the heart and lungs of any enterprise, and while a recession may force clients to push out software upgrades, we believe any delays will come back strongly in a year. In addition to cloud products, we see steady growth in older products such as Office and Windows if averaged out over two years. Even during the pandemic, Microsoft was able to show double-digit sales growth in constant currency, and growth rates bottomed at 12% in September 2020 but bounced back strongly a year later, averaging 19% from September 2021 to June 2022.
Over the next two years, we anticipate a similar occurrence, with a slowdown in fiscal 2023 (about 13%) and stronger growth in 2024 (about 18%), based on our calculations. Two-year sales growth should average roughly 16%, which would mirror the three-year average in 2020-22. (10/14/22)
Fiscal 2024E Constant-Currency Growth Far Too Low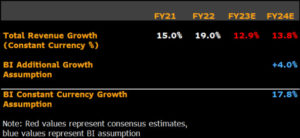 2. Better Cloud Spending, Easier Comparisons Are Key Catalysts
Timeline of Key Catalysts:
June 2023: Intelligent Cloud Revenue Growth Could Moderate Slightly With Decreased Use of Azure
September 2023: Azure Growth in Constant Currency May Outperform Consensus' 34.4% With IT-Spending Rebound
December 2023: Management Could Raise Fiscal 2024 Guidance; Street May Start to Adjust Estimates
June 2024: Total Revenue Growth in Constant Currency Could Land in High-Teens, Led by Resurgence in Cloud Revenue and Recovery in Other PC
Our confidence in Microsoft continuing to increase sales at an average of 16% for at least the next two years stems from its strong cloud business, which includes Azure (cloud infrastructure), Office 365 Commercial, Dynamics 365 and the commercial portion of LinkedIn. These businesses together accounted for 46% of total sales in fiscal 2022, up from 24% in 2018, growing annually at 36%. We calculate that commercial-cloud sales could surpass $145 billion by 2024, $6 billion more than consensus, and these products would make up for 58% of total sales.
Despite stellar growth, the cloud market remains relatively untapped vs. legacy IT, giving enough room for both Azure and Dynamics to expand strongly. Cloud is roughly 20% of total enterprise IT spending's overall $1.9 trillion. (10/14/22)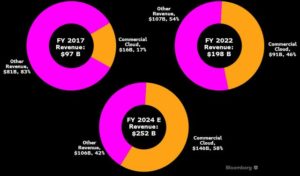 Microsoft is far more resilient to an IT-spending slowdown than peers, and our bottom-up analysis of its products shows sales growth remaining above 10%, even in a recession. Within its various product categories, we expect Azure, Dynamics, Office, LinkedIn and Windows to continue to expand in a recession, albeit at a slower rate vs. historical averages. Meanwhile, on-premise server products, gaming and search advertising could be three key areas that see weak or even negative growth. (10/14/22)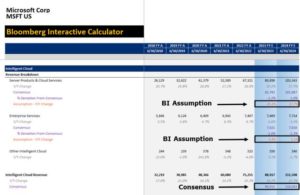 Microsoft's blended forward 12-month P/E of 21.5x is 20% below its five-year median of 26.3x. Our thesis is that Microsoft can show steady sales growth despite economic weakness, yet the valuation gap compared with its historical average suggests the market doesn't share our view. Adobe's standing as the stable growth vehicle in application software appears damaged due to its costly pending acquisition of Figma; we believe Microsoft deserves that mantle. (10/14/22)