Anna Wong (Economist) and Nicholas Hallmark (Economist)
Bloomberg
July 25, 2023
Former Fed Chairman Alan Greenspan famously said, "If I turn out to be particularly clear, you've probably misunderstood what I've said." While Fed communications have become more transparent since Greenspan's tenure, Fed watchers still often disagree on what they hear — perhaps reflecting their pre-existing biases.
So what would an "objective" Fed watcher – a natural language processor (NLP) – say about sentiment among FOMC members? We applied NLP techniques to Bloomberg news headlines tagged as "Fedspeak," and came up with a sentiment index for individual Fed officials. Here are our key findings:
Two observations stood out. First, most FOMC members turned more dovish in May-June 2023 than during the middle of last year. That's not a surprise, as the NLP approach picks up rhetoric about slowing the pace of rate hikes.
The second observation may be more surprising. Though the June dot plot shows a large majority supporting a terminal fed funds rate of 5.75% — implying one more hike after July's presumed move — the NLP assessment of the rhetoric over the May-June period is that there's less dispersion of views within the committee, and the cluster is closer to the dovish end of the spectrum.
In particular, some notable hawks – including Minneapolis Fed President Neel Kashkari, Governor Christopher Waller, Governor Michelle Bowman, the soon-to-depart Bullard, and even Powell himself – have moved in a clear dovish direction.
Altogether, the dispersion in the committee members' scores has narrowed compared to a year ago.
Bottom line: Does the dovish shift in rhetoric foreshadow a similar shift in policy? Our forecast suggests that inflation and labor-market data in the next few months will support the idea that July's rate hike will be the last one this year. The "objective" Fed watcher seems to agree.
Many FOMC Officials Have Moved in Dovish Direction This Year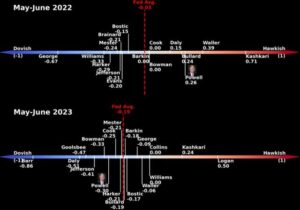 Methodology
The index is constructed using a dictionary-based sentiment analysis trained on a database of more than 58,000 Bloomberg News headlines labeled as "Fedspeak," covering more than 5,000 unique speaking engagements and statements attributed to individual FOMC members. The May-June 2023 period covers 767 headlines and 79 engagements.
Sentiment is scored based on the average number of hawkish and dovish words used by the member in their statements over the two-month period. This index score is then scaled from -1 (dovish) to 1 (hawkish) based on the range of sentiment scores in the preceding two-year period to provide better visual consistency and interpretability.