Key economic data this week pose risk of earlier rate hikes
Two-year yield exceeds 0.80%, highest since March 2020
By Michael Mackenzie and Edward Bolingbroke
January 3, 2022, 6:27 AM PSTUpdated onJanuary 3, 2022, 4:05 PM PST
(Bloomberg) —
Treasury yields surged, with 10-year notes recording their worst start to a year in more than a decade, as investors embraced risk despite the pandemic's grip on the economy.
Benchmark yields climbed across the curve, led by the 10-year, which jumped as much as 13 basis points and exceeded 1.60% for the first time since the omicron variant emerged in November. That was the 10-year yield's largest first-day increase since 2009, according to data compiled by Bloomberg. The 30-year yield climbed as much as 14 basis points to top 2%, while the two-year yield surpassed 0.80%, to reach its highest level since March 2020.
In Treasury options, a trade costing more than $16 million appeared to wager that the 10-year yield by mid-February will reach 1.95%, last seen in late 2019. Gains for U.S. stocks from near-record-high levels reinforced expectations for at least three Federal Reserve rate hikes this year. Later this week, December payroll data and the minutes of the Fed's December meeting may build a case for tightening starting sooner than May, the current expectation.
"March will be a live meeting and stronger data this week means it is not inconceivable we see lift-off that early," said Gregory Faranello, head of U.S. rates at AmeriVet Securities Inc. in New York. "The move higher in rates is not surprising as the market expects the Fed will lift off this year."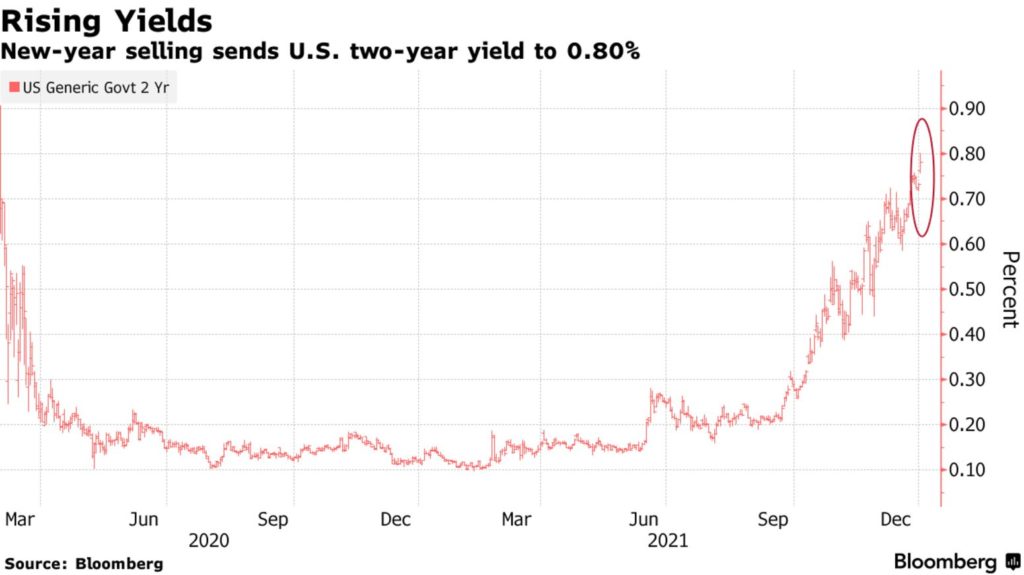 A bulging calendar of corporate debt sales for which there was little opportunity to prepare last week also helped drive the jump in Treasury yields. It was the first primary-market activity following a three-week lull into year-end.
The yield curve steepened, with premiums that 10-year notes offer over two-year securities widening as much as eight basis points on Monday to 86 basis points. The sell-off also spilled into Asia, with yields on Australian 10-year bonds jumping as much as 13 basis points to 1.80%, the highest since November.
Based on current interest-rate futures, the first increase in the fed funds target is estimated for May, with 77 basis points of tightening expected by year-end. Strategists surveyed by Bloomberg predict Treasury yields will end 2022 at higher levels, with the two-year climbing to 1.12% and 10-year notes reaching 2.04%.
Negative Returns
That outlook raises the prospect of negative Treasury returns for two consecutive years, a performance that would be unprecedented since records began in 1974. The Bloomberg Treasury index provided a total return of minus 2.3% in 2021, its first slump in nominal terms since 2013. The index has in the past rebounded after a down year, with gains ranging between 5.1% and 18% after negative returns in 1994, 1999, 2009 and 2013.