Steve Matthews and Sarina Yoo
Bloomberg
July 20, 2023
One-fifth see another hike by November to contain inflation
Fewer economists see recession relative to June survey
Most economists expect the Federal Reserve to lift interest rates one more time next week as it ends a 16-month hiking cycle that has been the most aggressive fight against US inflation in 40 years. The Federal Open Market Committee will raise rates a quarter point at its July 25-26 meeting to a range of 5.25% to 5.5%, the highest since 2001, according to economists surveyed by Bloomberg. With price pressures diminishing last month, almost all economists expect no change to rates at the September meeting and just one-fifth of the group predicts another hike by the November meeting.
Fed Chair Jerome Powell and his colleagues have signaled plans to hike rates further following a pause in June that was intended to slow the pace of increases as they approach a level believed to be restrictive enough to return inflation to their 2% target. The FOMC's median projection in its quarterly Summary of Economic Projections in June showed two more hikes are expected this year.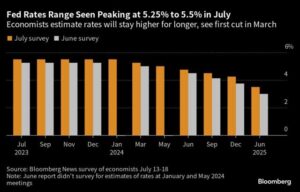 "It is almost a surety the FOMC will hike rates next week," Kathy Bostjancic, chief economist at Nationwide Life Insurance Co., said in a survey response. "Chairman Powell's press conference is the key focus. Powell and the FOMC have muddled their message to the markets. He has an opportunity to provide clearer guidance next week."
The survey of 45 economists was conducted July 13-18.
What Bloomberg Economics Says…
"The Fed is all but certain to hike by 25 basis points in July, but the favorable CPI report will bolster voices on the FOMC arguing that July's hike should be the final one — matching our baseline. Bloomberg Economics expects the Fed to go on an extended pause after a 25 basis-point move in July." — Anna Wong and Stuart Paul, US economists
The economists surveyed expect the Fed to keep rates at their peak level through year's end. They are split on whether the first cut will come in January 2024, with more than one quarter seeing a reduction then. The median of the group sees the first cut in March, with rates falling to 4.75% by June 2024 and ending 2024 at 4.25%. The projections are slightly higher than in last month's survey.
By contrast, Fed officials in June forecast rates falling more gradually to a range of 4.5% to 4.75% by the end of 2024. Markets are pricing in the near certainty of a July hike, with the first quarter-point cut coming by March and rates plunging to 3.9% by the end of 2024.
"Inflation is still set to slow sharply, but interest-rate cuts, which we have long been expecting, are unlikely to happen before the end of this year," said James Knightley, chief international economist at ING Financial Markets LLC.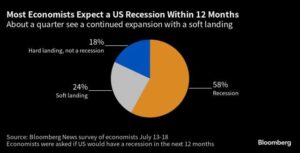 The economists have become gradually more optimistic about the outlook for the US economy, with 58% forecasting a recession in the next 12 months, down from 63% in the June survey and 67% in April. Continued solid jobs gains, with the unemployment rate near a historic low at 3.6%, combined with a greater-than-expected drop in consumer prices have shifted some economists to a more favorable view.
While Powell has said he sees a narrow path for a soft landing, the Fed staff has predicted a US recession, according to minutes of recent FOMC meetings. Among the economists surveyed, most of those not expecting a formal downturn are looking for continued expansion, and don't see growth dropping to zero or turning negative.
Fed officials have insisted they're keeping options open for more than one hike even amid the recent good inflation news, and Powell has said there's a strong consensus for hiking.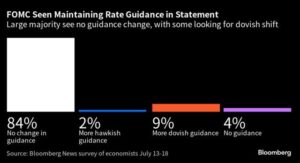 "This is welcome news, but one data point does not make a trend," Fed Governor Christopher Waller told the Money Marketeers of New York University on July 13 following the latest inflation news.
Most of the economists expect no change in the FOMC statement's guidance, which would leave open the possibility of additional hikes. They also think the committee will keep its description of the recent economic trends intact, citing modest growth. The large majority of economists expects no dissents.
Fed policy has drawn criticism from both those who believe the Fed was too slow to address high inflation or that current tight policy will put millions out of work. Nevertheless, the economists judged monetary policy is about right at present, with the median agreeing with the projected July position as the ideal terminal rate.