Bloomberg News
Bloomberg
August 11, 2023
Hello, this is James Mayger in Beijing.
China's deflation threat is real. While that's a problem for its domestic economy, Americans and many others around the world should welcome the news about falling Chinese prices.
The US and elsewhere have been grappling with skyrocketing inflation in the years since the pandemic, which has cut into people's incomes and pushed central banks to raise rates.
China has the opposite problem, due to a slew of factors including a prolonged property slump that has dented confidence and held people back from spending. The weak economy and falling commodity costs also mean the price that Chinese companies sell at has fallen for nearly a year — a bad thing for the profits of Chinese firms, but good news for global consumers and businesses. The price of Chinese goods at US docks has dropped every month in 2023.
Deflation in China "should help inflation in the US and Europe to moderate," Ding Shuang, Standard Chartered's chief economist for Greater China and North Asia said this week.
It's also a real turnaround from the situation a year or two ago, when people were so desperate to get their hands on various raw materials and goods that prices soared. Now, companies in China are slashing prices to attract buyers and stay in business.
Prices here have fallen so far that one European manufacturer in Beijing recently told me he's been buying plastic pellets to send back home. Even with shipping and tariffs, the cost is about 35% lower than the price in Europe.
Of course, a bargain like that for one company likely means a big drop in profits for others and adds to the factors weighing on growth in China. And while importers and consumers overseas will welcome lower prices, it's not an unalloyed good: Weak growth in China also means lower demand for foreign exports.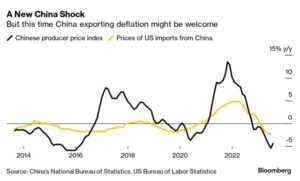 There are other limitations to how helpful China's deflation can be for the world. Politics in many developed countries have become more protectionist in recent years, meaning not everyone is going to welcome cheaper Chinese goods into their markets. And President Joe Biden gave us a reminder of how strained the US-China relationship has been this week when he called the world's second-largest economy a " ticking time bomb" that threatens the rest of the world.
While the consumer price deflation China reported in July may be temporary, the producer price drops could continue until there is a real pickup in the economy.
To be honest, I'm feeling a little deja vu at the recent headlines, but it is a big change from the last time I wrote about deflation in 2019. Then, people in Western nations were worrying the falling prices would undercut efforts to spur inflation.
But when I was writing about falling Chinese export prices at that time, who could have predicted that a global pandemic would soon break out? Covid-19 completely upended that trend and sparked a surge in demand for Chinese exports, pushing inflation to levels not seen in decades.
Who can really say what the future will hold?
Dubious Distinction
$199 Billion That's how much in total liabilities Country Garden held at the end of last year. The company, which was once China's biggest property developer and one of its strongest, could be heading toward a debt crisis that rivals Evergrande's default. Dollar bond holders said they hadn't yet received coupon payments effectively due Monday. That puts Country Garden on course for its first public default if it doesn't make the payments within a 30-day grace period.
Small Yard, High Fence
After months of waiting as US-China relations blew hot and cold, investors finally got word that Biden will impose limits on US investments in China. At first glance, it wasn't as onerous on Xi Jinping's government as expected, with the executive order regulating investments in some chip, quantum computing and artificial intelligence firms.